What is a CMS?
A Content Management System (CMS) is web based software that at the highest level is a system that manages the content of a website, web page or blog.
A CMS provides simple tools to allow a user to add, edit and delete content on a website such as text, images, documents and video without the need to use a web developer. It can also allow the ability to manage the structure of the website including adding and removing complete pages.
A user without much technical knowledge can achieve fairly complex tasks as the management of a website becomes much easier.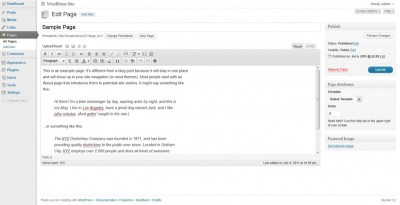 Why Use a CMS?
For a business owner that wants to update the content of their website regularly they do not want the time and money involved in having to use a web developer for each change, especially if they are small text changes.
A CMS allows the editing of a business owners website without having to contact their web developer. Hence there is an ongoing reduction in website maintenance costs with the streamlining of the authoring process also giving a faster turnaround time for new pages and perhaps new products.
Common Content Management Systems
Common open source Content Management Systems include WordPress, Joomla and Drupal. A CMS is not only used for a website but is commonly used as a blogging tool.

Custom Content Management Systems
Custom management systems can be built for companies that feel that a current CMS system does not meet their needs or they feel a complete CMS is overkill. For example a user may just want a simple custom CMS to edit a small amount of text on one page or to change a single document.
WebIT and CMS.
The WebIT open source CMS of choice is generally wordpress as most users find this the easiest to use. WebIT have done websites in wordpress such as noeljones.com.au, the research section of RealestateVIEW (http://research.realestateview.com.au), the RealestateVIEW blog (http://blog.realestateview.com.au/) and this website (webit.com.au).
WebIT have also provided a number of custom content management systems for websites such as caine.com.au and woolcockpartners.com.au as they have simply wanted to update their feature properties. WebIT also manage a number of other CMS powered websites such as nelsonalexander.com.au which uses Drupal.
WebIT can provide all your CMS needs. Talk to WebIT about using a CMS.