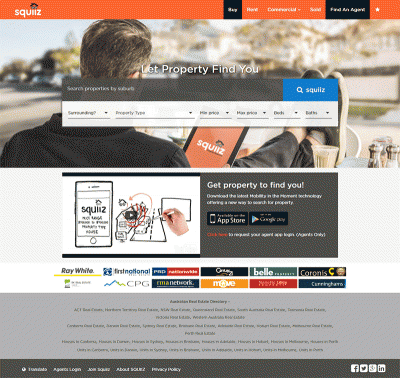 Squiiz operates on a multi server configuration including separate database, image, web and application servers with load testing and performance testing provided by WebIT.
Squiiz includes 20+ XML inbound data feeds processing in excess of 20,000 files per day.
Squiiz email system interfaces with the Mandrill system to provide email reporting including useful information such as email bounces and email open rates.
Squiiz has an Application Programming Interface (API) that is used to power the iPhone and Android applications.
The Squiiz email alert system sends emails each night including properties that match that users search criteria.
Squiiz uses a custom build CMS using Python and the Django framework for admin ability.
Squiiz interfaces with the Eway Payment gateway to automatically debit its paying members.
Squiiz uses the Google mapping system with point of interest (POI) to show facilities of interest to users.
WebIT has used its extensive Real Estate knowledge to help guide the Squiiz development.